Biography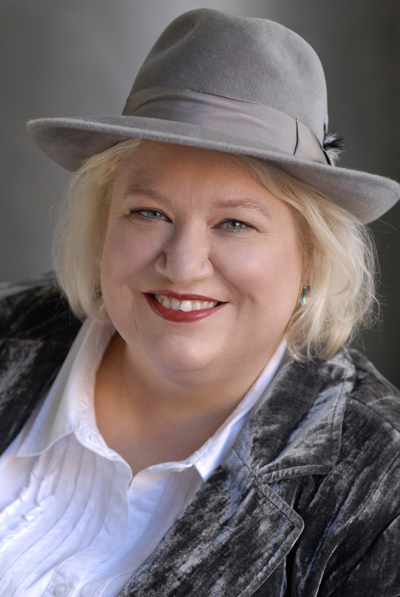 Kelli Stanley is an award-winning author of crime fiction (novels and short stories). She makes her home in Dashiell Hammett's San Francisco, a city she loves to write about.
Kelli earned a Master's Degree in Classics, loves jazz, old movies, battered fedoras, Art Deco and speakeasies. She is walked daily by a Springer Spaniel named Bertie. She credits Raymond Chandler, Ernest Hemingway, Cornell Woolrich, Dashiell Hammett and Thomas Hardy as some of her major influences.
CITY OF SECRETS, the thrilling sequel to CITY OF DRAGONS, launches on September 13th, 2011. The San Francisco-set CITY OF DRAGONS, was released by Thomas Dunne/Minotaur on February 2, 2010 to overwhelming critical acclaim, and was a finalist for the prestigious Los Angeles Times Book Prize. First of a hard-hitting new thriller series, it introduced the unforgettable protagonist Miranda Corbie—ex-escort and now private investigator.
"Children's Day", a short story prequel to CITY OF DRAGONS and set during the 1939 World's Fair in San Francisco, was published in the bestselling International Thriller Writer's anthology, FIRST THRILLS: HIGH-OCTANE STORIES FROM THE HOTTEST THRILLER WRITERS, on June 22, 2010. Kelli also recently contributed a story to SHAKEN: STORIES FOR JAPAN, the first  charity-driven e-book anthology. The brain child of  author Timothy Hallinan, all the proceeds from SHAKEN, including Amazon's, go to benefit victims of the Japanese earthquake. Kelli's story is called "Coolie", and is set in the immediate aftermath of the 1906 San Francisco earthquake.
THE CURSE-MAKER—the highly-anticipated sequel to Kelli's debut "Roman noir" novel NOX DORMIENDA—was released by Thomas Dunne/Minotaur on February 1, 2011.
Kelli's debut book, NOX DORMIENDA (A Long Night for Sleeping) (Five Star; July, 2008), was a Writer's Digest Notable Debut, won the Bruce Alexander Memorial Historical Mystery Award and was a Macavity Award finalist.
NOX DORMIENDA broke new genre ground as the first "Roman noir", a pun on its unique combination of Chandler-esqe hardboiled style and rich historical texture. The City and County of San Francisco awarded Kelli a Certificate of Honor for her creation of the new subgenre.
Kelli is always working … more Miranda Corbie novels, more "Roman noir", and a contemporary thriller. She is a member of Mystery Writers of American, International Thriller Writers, Private Eye Writers of America, Sisters in Crime, and the International Association of Crime Writers.
For rights queries, please contact Kimberley Cameron.
For CITY OF DRAGONS or THE CURSE-MAKER publicity, please contact Sarah Melnyk, Publicity Manager at Minotaur.
For all other publicity questions, please email publicist (at) kellistanley.com.