Welcome to Kelli's Website!
Miranda Corbie returns on 8/5/2014 in 
CITY OF GHOSTS!


Sign up for Kelli's newsletter to receive the latest news.
Thanks for visiting my virtual home!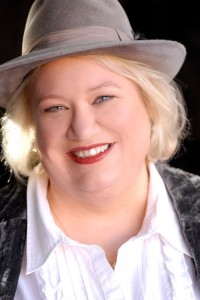 I hope you pull up a chair and stay awhile. You'll find all kinds of extras about each of my books, from videos and podcasts to photo galleries and my blog.
My goal with the website and my writing is the same—to give you an enriching, immersive and entertaining experience … and one you'll not soon forget.
I hope you have fun! Delve into the stories behind the stories, connect with social media, or send me an email—I love to hear from readers, and appreciate your time and support in reading my books and stories.
Take care—and thanks again for stopping by!

---
Latest Books
At book stores everywhere!
CITY OF SECRETS, the searing, heart-pounding sequel to CITY OF DRAGONS, won the Golden Nugget Award for best mystery set in California! Discover why Miranda Corbie is "one of crime's most arresting heroines" [Library Journal, starred review], and explore the darkest secrets of 1940 San Francisco! Available in hardcover, trade paperback or e-book!
Read the first chapter here!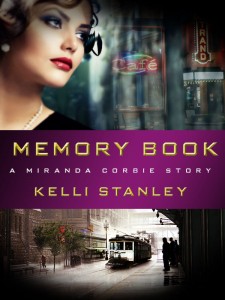 "Memory Book", an original  short story prequel to CITY OF SECRETS and CITY OF DRAGONS, now available as an e-book for Kindle, Nook and iPad—only 99¢! At the 1939 San Francisco World's Fair, Miranda Corbie hunts for a missing "memory book" for an old woman … and uncovers more than she bargained for.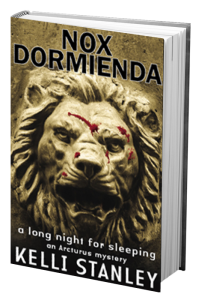 NOX DORMIENDA, Kelli's long out-of-print debut novel, is now available as an e-book! You can find it on Amazon and Smashwords, Apple and Barnes and Noble!
Only $3.99 in all formats!
Winner of the Bruce Alexander Memorial Historical Mystery Award for 2008!
The debut of "Roman Noir …"
---
Latest News
The fantastic Audible Books is producing an audio version of NOX DORMIENDA! Readers will soon be able to hear Arcturus and the rest of the cast of Kelli's award-winning debut novel in another great Audible production. Details for the release as soon as they're available!
---
Kelli has completed CITY OF GHOSTS and is working on a number of projects. CITY OF GHOSTS will be released August 5th, 2014, and is available for pre-order. Her next major appearance will be at Thrillerfest in New York, New York. Check her calendar for local signings and events.
---
BOOKS TO DIE FOR, the superb anthology edited by John Connolly and Declan Burke, has won an Agatha Award for best critical work of the year! Kelli was proud to contribute an essay on Agatha Christie's MURDER ON THE ORIENT EXPRESS.
---